Post by amydonaldson63 on May 19, 2017 0:42:16 GMT -5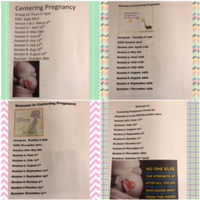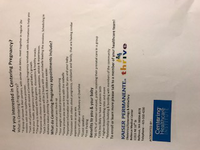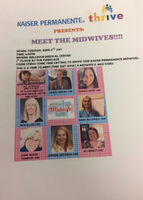 I have no idea why my recruitment sheet is sideways lol but here is a picture of the recruitment sheet I made up all on my own, then as soon as we were accredited I was able to added that priceless blue box on the bottom. The first set of pics is 4 different sheets with either a sweet pregnancy picture, a positive affirmation or whatever I find for that month to put on there. Those are the schedules I made up for each of the sessions. I make sure they are different every month. The patients absolutely love this because then even tho our templates aren't open that far out, the patients have an idea when the next session is going to be so they can let their employer know or if there is holidays and they know they won't make a session they make a one on one in clinic.
We also have our Kaiser Permanente recruitment sheet hanging up in all of our exam rooms and I am in the process of stealing a couple of the smaller tables in the waiting rooms to promote Centering , lol , along with these 2 sheets of paper ( I only posted those 4 calendars for those groups because thats what I had in my binder to snap a pic and post on her to share and maybe you can make your own also Its pretty simple and it is way more organized this way, it is for me anyway) along with one Centering group session dates and a recruitment sheet, I also give them the standard CHI brochures that I purchase from the CHI store.
The only reason why I have the Midwives, MD's, RN's and MA's is because when you come in for your NOB , you are overwhelmed with emotion and when you are trying to recruit someone and trying to explain to them what Centering is and what it offers, half the time the may have been at the clinic for a good hours with labs, US , provider appt ect and they aren't listening. So I give it to them and tell them to look it over and instead of leaving it up to the pt to contact ME, I tell them I will contact them in the next day or so and then they can tell me if that works for their schedule and I tentatively put them on the schedule for the first Centering session and 99% of the time they say it will work and they are excited about it. So since I am the Centering Coordinator and I am so passionate about Centering, as a clinic we have all decided for the most part,
When I am available I go in to the exam room with my Centering handouts and stuff and work my magic and get them to join Centering. I put this recruitment sheet up on the wall by where the patients sit in the exam room because some of the time they may be waiting for a few minutes by themselves or with their support ppl who are at their appt and they sit there and pass the time by reading the entire sheet of paper, that way when the Midwife or the MD come in to the exam room the patient asks about Centering on their own because they want more information.
We also have once a month a Meet the Midwives , half hour meet and greet with our Midwives at Kaiser Permanente Bellevue Medical Center, at our clinic we have a beautiful fireplace area on the first floor so the midwives go hang out at the fireplace and the patients pregnant or not can come and meet them. Most are pregnant tho and they do this once a month. I again made up a flyer to let patients know about the event. Its pretty cool and I plan on going to one one of these times and I will take pics and post but I will also be posting the flyer above. I love doing crafty things and I love bright cheery colors. I got all of the midwives on a group txt and they all had said they loved it! Since our inhouse training on April 10th ,ALL of these midwives received their Facilitator certification from our lead midwife Karen. I have other pics to post so I will see which thread I can put them under. Sorry this is so long, just wanted to share a little of my own little process.